Certified energy efficient doors and windows in your home or business are great for the environment and your wallet. These additions and other upgrades can dramatically reduce heat and energy loss. In sunny rooms with natural lighting, they promote space heating. In warmer months, they also help keep cool air inside where it belongs. These small changes can substantially impact the costs of heating and cooling your house. Most importantly, the money you save over time makes them a great investment for your home.
Thinking about an upgrade to energy efficient doors and windows? Single-pane window replacements can save you hundreds of dollars each year. Exterior doors can also contribute significantly to air leakage and energy waste. Don't forget about skylights and sunrooms, either.
We're your door and window experts in Terre Haute, and we're happy to answer any questions about energy-efficient renovations. Our team of licensed experts can make your energy efficient upgrades a reality. We're licensed, bonded, and insured, and we've served the Wabash Valley area for 25 years.
And if energy efficient doors and windows aren't on your list, no problem. We handle plenty of other window and door replacements and installations as well.
OUR DOOR AND WINDOW UPGRADES INCLUDE: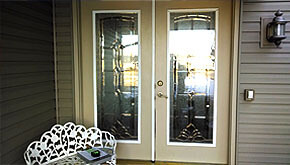 Residential windows
Commercial windows
Maintenance-free windows
Energy-efficient windows and doors
Bay windows
French doors
Sliding glass doors
Replacement windows
Ready to get started? Call us at 812-238-0154 for a FREE quote. We offer financing, and we're glad to talk through your options for a successful home improvement project any time.