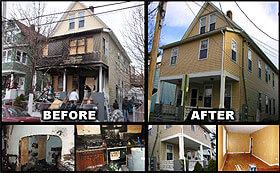 We know that one of the most devastating and life-altering experiences someone can go through is a fire in their home or business. Despite our best preparations, fires can strike fast and when we least expect them. One way our team of
fire restoration contractors
can help is to make the rebuilding process that comes after a home disaster a little easier for you. That's why Rogers is the trusted go-to resource for Terre Haute home fire cleanup. We're dedicated to serving clients throughout Terre Haute, Wabash Valley, and Eastern Illinois with compassion and commitment. When you're faced with the daunting task of fire damage or
water damage cleanup
, you aren't alone. If your property has suffered from smoke or fire damage,
call our 24-hour emergency line
. Our expert team will complete a thorough assessment of your home or business. This includes a structural integrity check before beginning any cleanup or repairs. Once we've assessed the extent of the damage, we'll get right to work. Our team is equipped to handle every step of the restoration process—beginning with board ups, packing, deodorizing, and cleaning before we move on to take care of tasks like replacing carpets, hanging new drywall, rewiring your home's electricity, remodeling your space, and repairing or replacing your roof with efficiency and professionalism so that we can get you back in your home as soon as possible.
TERRE HAUTE HOME FIRE CLEANUP EXPERTS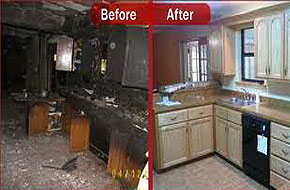 Rebuilding is healing, and our team handles home fire cleanup and restoration with utmost care. With over 25 years of experience, you can trust our professionalism and expertise. We handle the entire home cleanup and rebuilding process so you don't have to deal with the added stress of managing multiple contractors after an emergency. For added peace of mind, we offer opportunities for financing and a two-year workmanship guarantee on every job we complete.