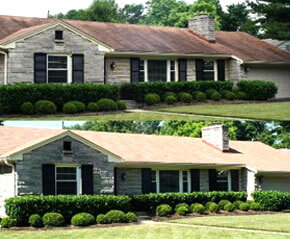 A sturdy roof over our heads is one of the most important things we need in life. As the cornerstone of your shelter, a roof plays a critical role in the well-being of you and your family. It's crucial for the well-being of your house, too!
Old roofs aren't just an eyesore, they can also cause real problems for homeowners. When a roof is damaged or even simply past its prime, it can cause trouble. Old roofs let in water and condensation, which creates a prime environment for mold growth. If enough water collects over time, the weight can even result in a roof collapse. Roof deterioration also makes it easier for birds and rodents to turn your home into their home. We're your Terre Haute home roofing repair experts.
If your roof is leaking, sagging, tearing, blistering, buckling, rotting, or molding, our expert team is prepared to handle roof repairs and replacements. We value your time, and our team of experts works carefully and efficiently so that your routine can return to normal as quickly as possible.
We'll shield your home or business with top-notch roofing products that are made to last, protecting your property for years to come. Our expert team is licensed, bonded, and insured, and you'll get a manufacturer's warranty on roofing and a two-year workmanship guarantee for added peace of mind.
PROTECT YOUR HOME WITH A NEW ROOF
We offer the following roofing services to our clients in Terre Haute, the Wabash Valley, and Eastern Illinois:
Flat roofs
Re-roofing
Shake and tear offs
Seamless gutters
Asphalt shingles
Ask us about our 12 month same-as-cash and traditional installment financing options. While you're making plans to replace your roof, you may also want to consider freshening up your siding or installing energy-efficient doors and windows for lowered heating and cooling costs. Have a few other home remodeling or repair upgrades to knock off your list? We handle those too.