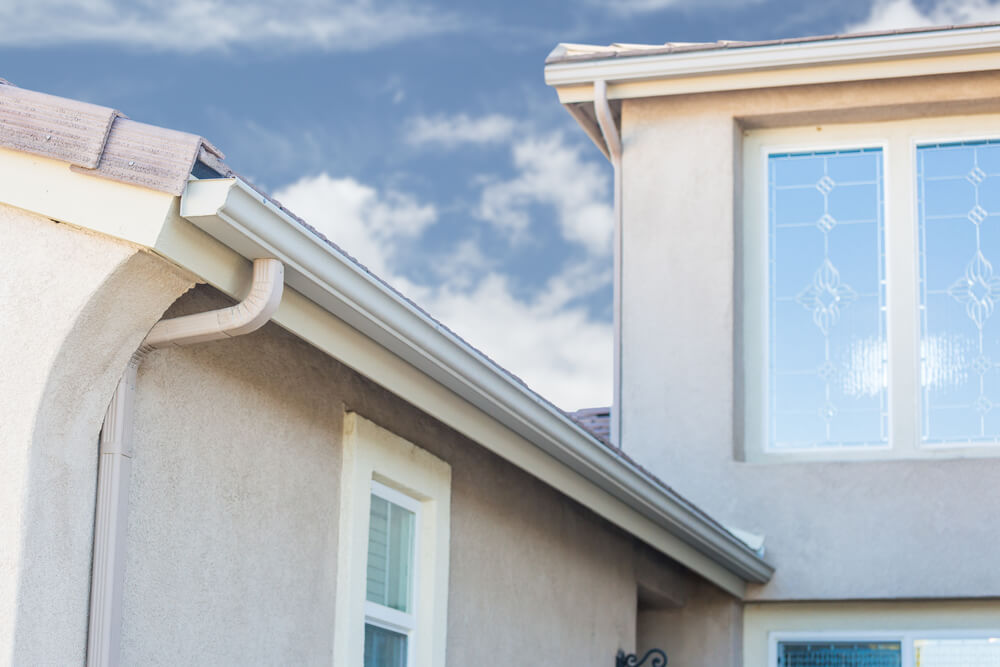 When it's time to update your home's gutter system, of course you want something high quality that is going to last. You've probably heard of seamless gutters, and you may be wondering if they're a good fit for your home and your budget. Seamless gutters are exactly what they sound like, gutters made in one large, continuous piece. By comparison, roofing contractors install traditional gutters by fitting together pre-cut segments. For homeowners in Terre Haute, seamless gutters may be just the home improvement solution you're looking for.
Advantages of Seamless Gutters
Traditional gutters can develop leaks along the seams, which is where two lengths of gutter attach. By eliminating the seams, seamless gutters minimize the risk of gutter leaks. This means less maintenance for the homeowner. They're also less prone to clogs, so you won't be clearing your gutters as often. If you want gutters you don't have to think about as much, seamless gutters are the answer!
Gutters that don't leak and clog also do a better job at protecting your roof and preventing home water damage by keeping water away from your home's foundation. This not only means less headaches for the homeowner, but over time it can save a lot of money.
Many people also find seamless gutters more attractive. They often come in a wide variety of colors and can add to both the curb appeal and value of your home.
Considerations for a Seamless Gutter Upgrade
Seamless gutters are custom made to fit your home exactly, and this means they're a bit more expensive than traditional gutters. However, when you factor in the cost of gutter cleaning, repair, and ROI over time, seamless gutters can be a better lifetime investment. The nature of seamless gutters also means they require special machinery and not a DIY project for homeowners.
Making Seamless Gutters
In order to perfectly fit your roof, roofing contractors make seamless gutters on site. Seamless gutter contractors in Terre Haute arrive at your home with a special machine, which is sometimes called a robot. This machine turns long lengths of metal into gutters sized to the unique specifications of your roof.
Seamless Gutter Design
Traditional gutters are often made of vinyl, which is inexpensive but prone to warping. By contrast, seamless gutters are made of aluminum, coated steel, or copper. Aluminum and steel gutters come in a wide variety of colors to match the aesthetic of your home. Copper gutters are another attractive option, and they'll develop a natural patina finish as they age.
Aluminum is the most economical and most popular option for seamless gutters in Terre Haute.
Seamless Gutter Lifespan
While seamless gutters generally last longer than traditional gutters, the lifespan varies widely. This is based on a number of factors, including material, the installation process, weather, and regular maintenance. Homeowners may find they need to replace traditional vinyl segmented gutters after around 10 years, especially if they aren't regularly cleared and maintained.
Aluminum gutters (whether seamless or traditional) tend to last longer, upwards of 20 years or so. The lower maintenance provided by seamless gutters could extend their lifespan even further! Copper gutters, while pricier upfront, are truly an investment in your home's future, sometimes lasting up to 50 years.
Should You Choose Seamless Gutters?
Busy homeowners in Terre Haute looking for a gutter system that does its job with minimal maintenance should consider seamless gutters. In most cases, seamless gutters will save you time and money, protect your roof and house from water damage, and add beauty and value to your home. As with any project, you should weigh all of the factors and variables before deciding which choice is the best for you.
If you're thinking about seamless gutter for your home or business in Terre Haute, Rogers Home Improvement is here to help. Give us a call today for an estimate or to schedule your next project.