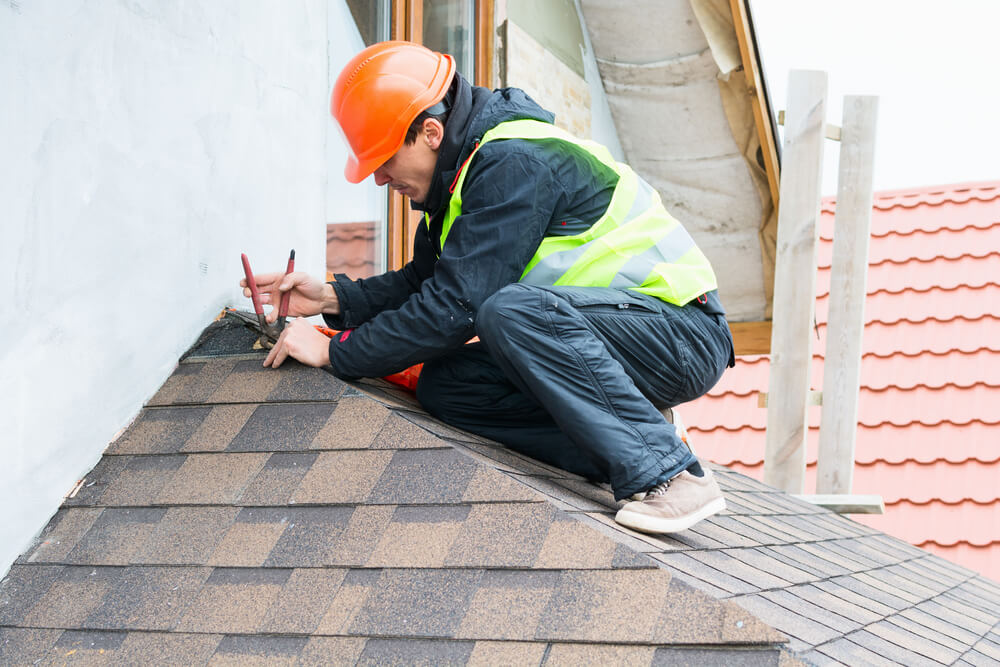 It's no secret that roofing can be expensive. Like with any home improvement project, when it's time to replace the roof of your home or business, you'll be looking for the most value for your money. At the same time, you want a high level of experience from your Terre Haute roofing contractors, a high quality of work, and to be sure the job is done right, the first time.
You may be confronting a significant leak, a fallen tree, or storm damage, which means you might not have time to budget in advance for a new roof. Or you may be looking to schedule a planned replacement but are working with a limited budget for your project. There are many reasons to keep costs down, and fortunately you have options.
No matter what your situation may be, there are a few steps you can take to find affordable roofing options in Terre Haute.
Don't Wait
Like with any home improvement or major renovation project, allow as much time as possible to plan for what's ahead. If you start to see signs of wear and tear on your roof and know a replacement is coming in the next few years, start talking with affordable Terre Haute roofing companies now, getting estimates, and setting aside a budget for your project. In the meantime, routine roof maintenance can help your current roof last, and do the important job of sheltering your home or business, until it really is time for that replacement. Planning ahead can really pay off!
It may be tempting to postpone replacing your roof for as long as possible, in an effort to save money. While this is understandable, avoiding a needed roofing job is never recommended, and can actually cost you more in the long run. This is especially true if problems with your roof leave other parts of your home or business vulnerable. If you already have to pay for a new roof, you don't want to have to deal with something like water damage at the same time.
Understandably, sometimes roof replacements occur because of an emergency (such as damage during a storm, surprise mold damage, or even a fire), and in that case there are other options for affordable roofing.
Repairs or Replacement?
Sometimes a roof has truly reached the end of its life, and replacement is your only option. However, other times it's possible to manage roof damage with repairs. In the right circumstances, roofing repairs can be less costly for you and allow you to save up for a total roof replacement down the line.It's a good idea to keep an eye on the state of your roof yourself, and
know the signs that your roof is in need of repairs
. Things such as cracked, curling, or missing shingles, for example, may be able to be replaced individually for the time being. If you're unsure, consider hiring a Terre Haute roofing contractor to come out for a free estimate. If you don't need a new roof now, they can give you an idea of when you will, which will make it easier to plan ahead and find room in your budget.
Think About Materials
There are many options available when it comes to materials for your new roof, and that means many different price points. Remember that the material you choose will probably have a big impact on the final price of the job. As a general rule, materials account for about 40% of the cost of any home improvement project. While a slate roof looks gorgeous and boasts longevity, it's not necessarily a budget buy. To keep costs down, choose a more affordable roofing material like asphalt shingles.
Asphalt shingles are by far one of the most affordable roofing options, and they're still a high quality roofing material. Asphalt is easy on the budget, durable, and available in a range of colors, making it the most popular choice for most homes and businesses.
Think Twice About DIY
One common way to save money on home improvement costs is to do much of the work yourself. There's nothing wrong with having a can-do attitude, and there are many projects around your home or business that you can absolutely tackle yourself, even if you don't have a ton of experience. However, unless you happen to be an experienced roofer, DIYing your roof replacement isn't a great way to keep things affordable.
In addition to their knowledge and experience with the materials, Terre Haute roofing professionals spend a lot of time up on roofs and are used to the environment. This allows them to complete your project correctly, quickly, and most importantly safely. The average home or business owner simply doesn't spend much time, if any, up there. Real injuries can and do happen, and not only can they be time consuming and expensive, your safety is also just as important as your budget.
Apart from the risk to your safety, a DIY roof job won't save you much money in the long run. The professionals know the problems to watch out for, and they know how to handle things in the most cost effective way. Installing a roof may seem simple, but first timers do make mistakes. If you do it yourself and have to hire a contractor later to fix something, the odds that you'll go over budget are high. In contrast, most roofing contractors will offer some sort of warranty or guarantee on their work.
Instead of risking it yourself, reach out to experienced professionals–like the team here at Rogers Home Improvement–and ask about affordable roofing options. Having it done by the pros will give you peace of mind, and it might even save you money in the long run.
Shop Around
When you're ready to look for Terre Haute roofing companies, it's a good idea to get more than one quote. Why? Having several quotes can help you get the most accurate range of what your project will actually cost. To start, you may want to get as many as three or four quotes before making your final decision. Don't be afraid to tell roofing contractors that you're looking specifically for an affordable roofing job.
It isn't just about seeing who will handle your roof replacement for the cheapest, although of course you want to stick to your budget. Getting multiple quotes will also make it easier to spot the outliers. Be wary both of estimates that are either unreasonably high, or so low that it's unlikely they'll be able to finish the job within budget. It's not a bad idea to have some idea of what goes into the cost of a new roof yourself, either. Remember that knowledge is power. The more you know about affordable roofing, the more empowered you are as a consumer.
Get the Job Done Right
The contractor you choose also plays a big role in the cost of your roofing project, and establishing a relationship with your contractor is key. You want a team you can trust, who comes recommended by others locally, and who won't nickel and dime you. You also need roofing professionals with experience. An experienced team knows how to replace a roof efficiently and effectively, which keeps labor hours in check. This also helps prevent errors and mistakes that can become costly down the line.
When looking for roofing contractors, it's a good idea to ask friends and family for recommendations first. You may also want to consider online ratings and reviews.
Choosing the best professional is about more than just getting the lowest price, though of course you want to save money too. The reality is that you may need to budget for even an affordable roofing job, and you want to know not only who's working on your home or business, but also feel good about the job they're doing.
At Rogers Home Improvement, we have more than 25 years of experience replacing roofs for homes and businesses in the Terre Haute and greater Wabash Valley area.
Consider Financing
The reality is that not everyone can afford to pay out of pocket for a new roof, no matter how budget-friendly the job might be. Especially if you're looking for affordable roofing for an urgent replacement, financing might be the best option to get your project done quickly and efficiently.
Rogers Home Improvement is ready to help. We offer several affordable roofing financing options through EnerBank, America's home improvement lender of choice. Loans are available between $1,000 and $45,000, leaving plenty of room for all sorts of projects and all sorts of budgets.
EnerBank offers low fixed interest rates that are locked in at the time of loan approval, and they don't use your home as collateral, so there's no lien on your property. They've helped nearly 700,000 homeowners get the financing they need to bring their home improvement dreams to life–including that new roof you need.
Ready to start your new roofing project with a team you can trust? Backed by 25 years of community experience, we're here to answer your questions as you start planning. Get in touch for your free estimate today.