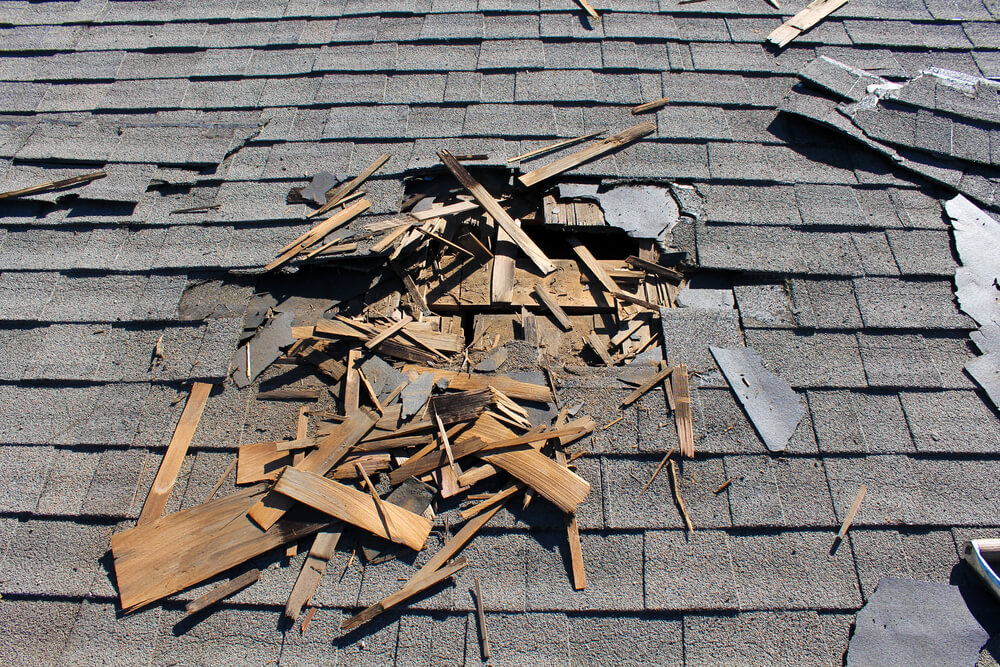 Home renovation projects such as updating a kitchen or bathroom, adding a room, and replacing the flooring throughout a home are some of the more glamorous changes homeowners can make. True, replacing your roof might not be at the top of your list for changes to your home. Still, that doesn't mean it's not equally as important as any other update you make. In this Roofing 101 post, we'll go over the basics of replacing roofing for home and business owners. Understanding what to expect from Terre Haute roofing companies is the first step to making sure you receive high-quality work.
Materials Terre Haute Roofing Companies Use
When it's time to select the style of your new roof, there are plenty of options. The materials you choose depend on your own personal style, budget, and preferences.
Asphalt Concrete Shingles – These are the most common shingles used by roofing contractors in Terre Haute, Indiana and throughout the Midwest. These shingles are affordable and durable, often lasting two decades or longer with regular maintenance.
Wood Shingles and Shakes – If you're looking for something beyond the typical roofing materials, consider wood shingles and shakes. You can expect to pay a little more for this material, but it provides a particular aesthetic that some people prefer.
Metal Roofing Materials – Typically created from aluminum, steel, zinc alloy, or copper, metal roofs can last upwards of 50 years or more. Metal roofs are strong and hold up well in all types of weather. They can also help keep your home cool in the warm months and warm during the cooler seasons. One drawback, however, is that metal roofing can be loud, especially when it's rainy.
Slate Roofing Materials – These materials are expensive, but the final product is a beautifully constructed roof. A slate roof stands out from other roofing in Terre Haute. You can expect a properly installed slate roof to outlive your time in your home, often lasting between 75 and 100 years with regular maintenance. It's worth the ROI, but keep in mind that slate can be delicate in some situations. This means it may require a bit more upkeep.
Synthetic or Composite Roofing Materials – These can sometimes be a greener roofing option if you seek out materials made from recycled plastics. Plastic is meant to be durable, and these types of roofs are no exception. You can expect this roofing style to last around 30 to 50 years with regular maintenance.
Layering or Tear Off Options for Terre Haute Roofing
Roofing companies in Terre Haute have two options for installing a new roof: layer the new roof on top of the old or tear off the old roof and start with a clean canvas. Layering a new roof on top of old shingles can reduce waste and lessen the workload. Depending on the condition of your current roof, occasionally this option makes the most sense. However, this route will not take care of any unseen issues hiding under the current roofing. So, tearing off old roofing is more work, but it gives roofing contractors an opportunity to fix those hidden issues. For instance, worn sheathing or flashing should be checked carefully. Most often, this is the best choice when it's time for a new roof.
Installing a Replacement Roof
The installation process by Terre Haute roofing companies depends on a few factors. If you've decided to layer your replacement roof, then you should expect to immediately hear hammers banging overhead. However, if you've opted for the tear-off route (which we strongly suggest for almost all roofing projects) then the process will be a little different. You can expect to hear a crew on your roof scraping off old shingles, replacing outdated roofing components, and then placing your new roofing materials. Roofing projects are loud, but it's nothing compared to the screams you'll hear if your roof starts leaking into someone's bedroom in the middle of the night.
Consider the Cost of Replacing Roofing in Terre Haute
The budget of a roofing project will determine the plan of action. No matter your budget, in most cases roofing in Terre Haute can be affordable. You can learn more about our roofing replacement financing options here. Consider materials, the type of replacement, and the duration of the project within the context of your budget. Other considerations that impact the price of Terre Haute roofing projects include the pitch of your roof, square footage, and which Terre Haute roofing contractor you choose.
The Necessity of Quality Terre Haute Roofing
Updating your roofing might not be the most glamorous home reno project. This doesn't mean that it's not important, though. Terre Haute roofs are something that most homeowners don't think about until there's already an issue, but being proactive about maintenance and upkeep can save you money and stress in the long run.
Ready to start your roof replacement or another home improvement project? Get in touch for a free estimate.